1902 - 120th Place SE #202
Everett, Washington, 98208
Phone: (425) 337-9472 or toll free (888) 300-5443; Fax: (425) 337-9578
---
WHY NOISE TESTING? ... WHY J R ENGINEERING?
Most aircraft certification programs are required to address aircraft noise regulations in one way or another. This is true for anything from a new transport category jet to a propeller change for a light single engine aircraft.
In many cases, this can be accomplished quickly and economically by analysis or by demonstrating that a proposed change does not result in an "acoustic change". J R Engineering has saved many clients considerable time and expense by these methods, for example: Aviation Partner's winglet modification on the Gulfstream G-II; a camera pod for the Bell 206 Helicopter; a new propeller for the Cessna 185.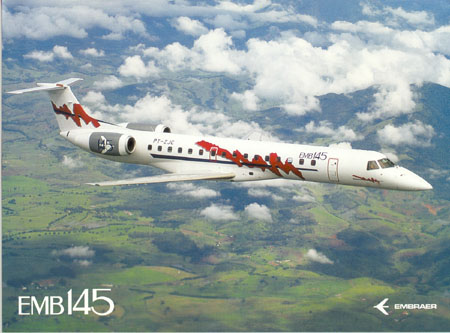 Embraer aircraft, the EMB-145.
In other cases, an acoustical flight test is necessary, varying in scope depending on the aircraft type. JRE has conducted more than 25 of these tests involving aircraft including a modified R-22 helicopter to a Boeing 707-300 fitted with "hush kits" that JRE helped to design, a NP-1 biplane, a modified De Haviland of Canada Turbo-Beaver, Gulfstream's newest intercontinental business jet, the G-V, and Embraer's regional jet transport, the EMB-145.
In some cases, an approved aircraft may be too noisy to meet new rules and must be retrofitted with a "hush kit". JRE has assisted in the design and development of Quiet Nacelle's Stage 2 and Stage 3 707 "hush kits", Gulfstream's G-II and G-III Stage 3 "hush kit", and the very popular DuganAir Quiet Wing System for the Boeing 727. All of these "hush kits" have met their noise goals and are FAA approved.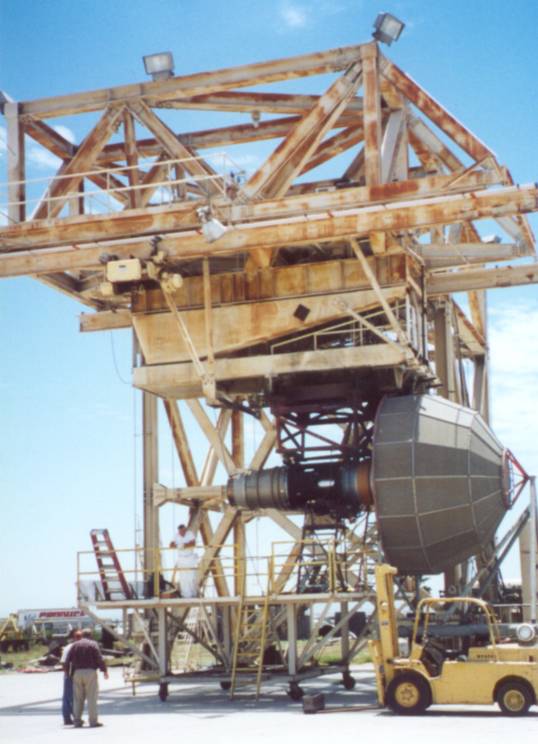 Engine testing at Rohr's facility.
In addition to flight testing, JRE has performed several engine ground tests. Ground tests are an economical method of testing similar "hush kit" configurations to help determine which "hush kit" configuration would be the best to flight test. Ground testing can be done with the engine on an engine stand or the aircraft itself. JRE also worked with Rolls-Royce Corporation and Embraer in developing a FAA approved aircraft noise "family plan" using the original flight test database and subsequent engine ground tests. This was very economical, saving the client multiple acoustic flight tests.
JRE worked with Papillon Helicopters and Vertical Aviation Technologies in developing the Whisper Jet Helicopter, a modified Sikorski-55 helicopter. The Whisper Jet is one of the quietest commercial helicopters available.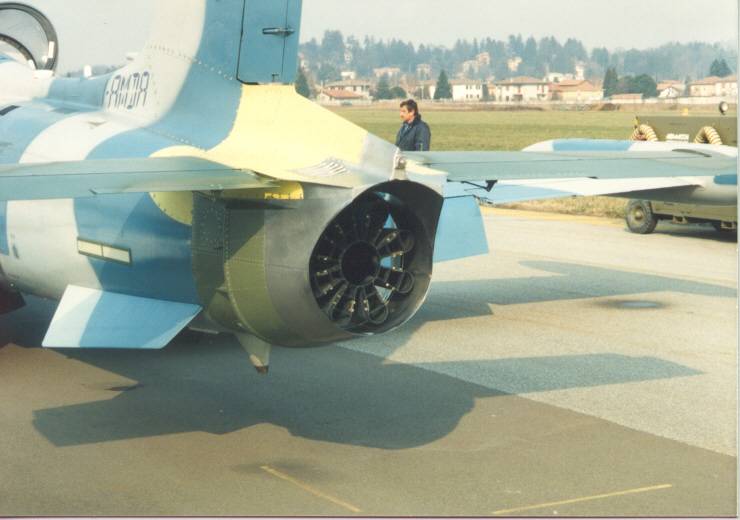 Engine nozzle tested in
Italy by J R Engineering.
JRE's proprietary analytical software and methods have been accepted by the FAA/DOT for 14 CFR Part 36 Certification and EASA for international certification under IACO Annex 16. JRE's acoustic data acquisition and reduction system is designed to comply with all applicable regulations while providing accurate measurements of the sound generated by a specific test aircraft. Particular efforts have been made to minimize contamination of the data by instrumentation noise floor, extraneous noise sources or paths. This assures that measured noise levels are as low as possible, consistent with the applicable regulations. Digital recording and analysis systems are used to minimize instrumentation noise floor and non-linearity.

Ground test setup.
Pistonphone calibrators, pressure type microphones, wind screens, preamplifiers and power supplies manufactured by Larson Davis and Brüel and Kjaer provide sound sensing in compliance with applicable sections of 14 CFR Part 36 and IEC Publication 651.
Sound Devices 744T solid state and Sony Digital Audio Tape (DAT) recorders provide a dynamic range of at least 80 dB, substantially surpassing all applicable requirements of 14 CFR Part 36. The resulting unusually high dynamic range corresponds to an unusually low electronic noise floor which, combined with analytical post-processing, virtually eliminates any increase in the measured level due to electronic noise floor. Frequency response to the system is exceptionally flat, easily meeting all requirements of 14 CFR Part 36.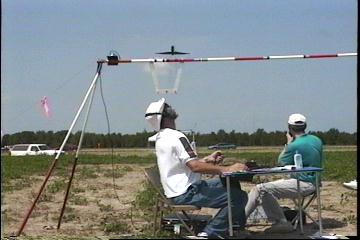 Gulfstream G-V test near Savannah, GA. The aircraft is visible above the sight-bar.
The Larson Davis Real Time Analyzer provides a dynamic range greater that 80 dB, substantially surpassing all applicable requirements of 14 CFR Part 36. The Larson Davis Precision Integrating Sound Level Meter meets Type 1 requirements of IEC Publication as well as all applicable requirements of 14 CFR Part 36. The ground weather station and aircraft based weather sampling systems manufactured by Climatronics and Vaisala comply with all applicable requirements of 14 CFR Part36.
© Quietly Superior, Inc.
Comments about this site can be sent to: