1902 - 120th Place SE #202
Everett, Washington, 98208
Phone: (425) 337-9472 or toll free (888) 300-5443; Fax: (425) 337-9578
---
ENVIRONMENTAL ISSUES
Noise control regulations are in effect in a variety of industries.
Many industries are also controlled as to the level of noise pollution they may generate with respect to surrounding developed and inhabited areas. For instance many construction and/or remodeling projects are often called upon to address and comply with noise regulations in one way or another.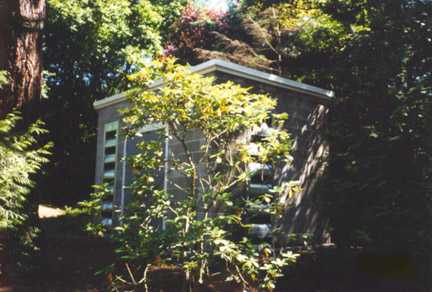 Example of an acoustic housing designed by JRE to meet
the local noise ordinance for a generator near the property line.
The State of Washington has established maximum noise levels that may be generated on one property and be transmitted to the next. King County and most local jurisdictions have adopted the same requirement. As a result, such potential noise sources as air conditioners and/or other machinery often require acoustical treatment to comply. J R Engineering (JRE) has experience in the design of acoustical barriers and enclosures for this purpose.
In addition, the Federal Department of Housing and Urban Development (HUD), as well as most local governments, has established maximum noise levels for various land uses. As a result, it is often necessary to perform a 24 hour noise survey of a site before it is developed for residential or other noise sensitive use. JRE has equipment specifically designed for this purpose, and is able to conduct such noise surveys reliably and economically.
Also, to comply with building codes or OSHA regulations, it may be desirable or necessary to control noise within a building. JRE can provide recommendations and specifications to assist with this type of compliance.
Other non-aircraft applications that noise control regulations or preferences can affect:
The marine industry - noise from boat engines and their effect on the in-cabin or bridge acoustics.

The transportation industries - commuter busses - local and long distance.

Trucking and long distance hauling.

Railways - commuter trains and long distance passenger trains.
Each of these situations can be related to desirable or allowable noise levels within the structure, and/or the affect that noise levels have on the surrounding areas - similar to regulations controlling noise levels around airports.
J R Engineering, based in Everett, Washington, is available for consultation as to the most timely and cost effective measures that might be considered for the elimination or control of unacceptable noise levels.
© Quietly Superior, Inc.
Comments about this site can be sent to:
Webmaster@quietlysuperior.com